GALLERY
Here are some projects from breathe Interiors.
Gorgeous Condo
Toronto, Ontario
​
This condo was confined, dark and dated when the owners purchased it. We removed and rearranged to create a space that was both open and private.
We removed an entire kitchen wall and put in an island open to the living room and we removed an unnecessary powder room to create a useful front hall closet. With some changes, an awkward sunroom became an office for two. Every room was updated, including two bathrooms. Now, it's perfect, pretty and practical for Thunder the dog and his humans.
Dream Kitchen
Etobicoke, Ontario
This kitchen is equally designed for cooking gourmet meals as it is for entertaining. The 12-foot long island makes it easy to prepare food and talk with guests at the same time. It has every appliance a chef could ask for: a 6 burner range with a grill/griddle, a steam oven, a microwave drawer, a huge fridge/freezer, a separate ice maker, and a built-in coffee system. Phew!
The owners and their guests never need to leave the kitchen!
Calm Ensuite
Etobicoke, Ontario
This dated master bath had a full overhaul. We created a large custom vanity with double sinks and under cabinet lights, a large shower enclosure, a semi-private toileting area, and installed a gorgeous new bathtub with nearby storage shelves. To create interest we added simple applied moulding and used soft neutral colours to the separate sections of the walls. Overall, it is a calm and beautiful space.
Staircase
Photo by John Bartosik
Stairs
Stair Detail 1
Photo by John Bartosik
Stair Detail 2
Photo by John Bartosik
Spa
Photo by John Bartosik
Steam Shower
Photo by John Bartosik
Vanity
Photo by John Bartosik
bench and hooks
Photo by John Bartosik
Fireplace
Photo by John Bartosik
Theatre
Photo by John Bartosik
Kitchenette
Photo by John Bartosik
View from the gym
IMG_5621
Mudroom
Photo by John Bartosik
Barn Door and Fireplace
Photo by John Bartosik
Collingwood Chalet
Collingwood, Ontario
From bare bones of cement and ducts we created this beautiful masterpiece. This empty space is now full of potential for gatherings and retreat.
A modern rustic style was achieved through natural materials and modern lines. We used reclaimed wood from local barns, stone from northern Ontario and natural slate.
The glass enclosed sauna and steam shower is a beautiful space to unwind after a day on the slopes. Or, this family can have friends over to enjoy a film in the theatre and cosy up to the warm fireplace.
Lovely Living Room
Etobicoke, Ontario
​
This living room needed an update and a refresh. New furniture, area rug, lighting, accessories and art completely transformed the room.
​
Now, these owners are proud to invite friends and family over to gather together in this lovely living room.
A CLASS ACT
Cambridge, Ontario
The corner tub, small shower and basic finishes were not working for this couple. The bathroom was redesigned with the free-standing tub as the focal point centred under the three windows. A private room was created for the toilet, a new larger glass-enclosed shower was built, and a make-up vanity was installed. The wider glass pocket doors now allow light to travel into the master bedroom.
Calmer colours in the master bedroom create a restful sleeping environment. We had the heirloom chair reupholstered, and simply updated the bed linens and accessories to achieve the elegant and timeless look they were after.
Photo by Silverhouse
Photo by Silverhouse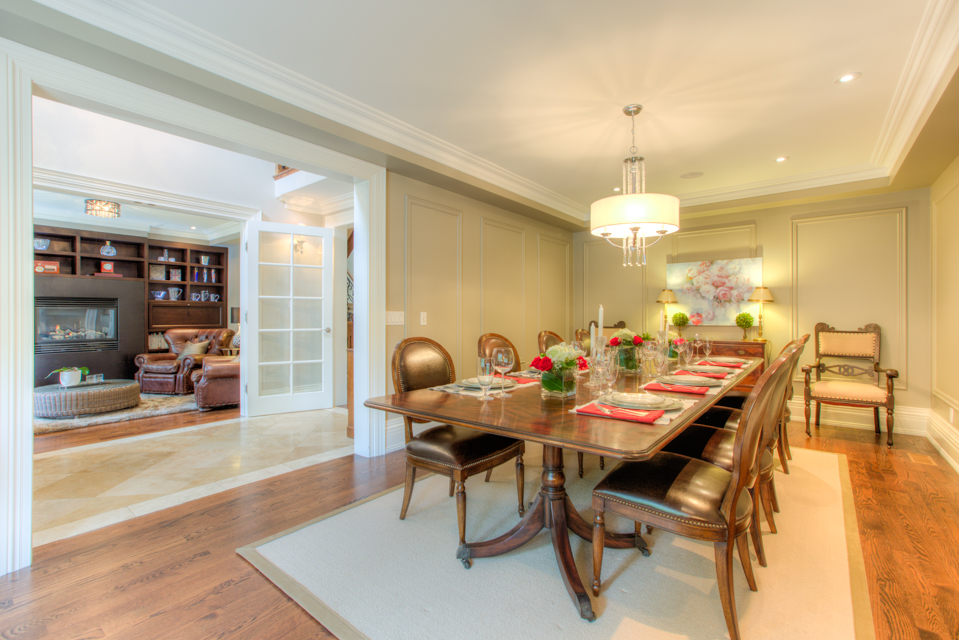 Photo by Silverhouse
Photo by Silverhouse
Photo by Silverhouse
Photo by Silverhouse
Main Floor Makeover
Toronto, Ontario
This home required increased functionality and beauty. Two of the main floor rooms sat unused while the kitchen/family room became the space for all activity.
We created a lovely dining room by removing the awkward fireplace and adding achitectural moulding and lighting. The fireplace moved to the other unused room where a quiet sitting room was created with a wall of handsome cabinetry.
Similarly, functional cabintery was added to the family room, complete with a built-in desk where a stool could be hidden behind pocket doors when desired.
Brand New Basement
Toronto, Ontario
This crowded semi-detached home needed a comfortable hang out area for teenaged kids and some well planned storage space and laundry room.
Creating a wall enclosing the stairs allowed us to place the tv there and a giant sofa opposite it. Now the kids are free to chill.